Description
Overhead conveyor shot blasting machine with hooks is designed treatment for mixed loads of medium or large work pieces which are particularly fragile or sensitive that cannot be tumbled in bulk loads. Overhead conveyor shot blasting machines with hooks is ideal for heavy and complex shaped workpieces like: casts, welded constructions, forged and pressed parts, remodeled cold or hot and of various complicated forms, steel bottle, springs, etc. Single hook load capacity can be from 30kg to 300 kg. Hook quantity and conveyor speed is calculated based on the productivity requirement.
Work pieces are placed in work piece holders or are suspended directly from the running gear's rotating hook. Work pieces within the blast machine are rotating and moving in a way that makes it possible for very effectively cleaning. A monorail drives the large or heavy parts into and out of the blasting cabinet. Work pieces are loaded outside the blast cabinet on hooks or hanging tools and moved into the blasting chamber. After blasting finished, the hooks move out and workpieces are removed from the hooks to be unloaded. Monorail systems allow multiple work hooks for loading/unloading while another is being blasted, providing high productivity and continuous blasting process.
Application range
Monorail conveyor (hanging chain) shot blasting machine is suitable for shot blast cleaning of mass production of small and medium-sized iron castings, steel casting, forging and stamping workpiece, particularly suitable for forging, casting workpiece cleaning, to remove the adhering sand, rust, scale, dirt of workpiece surface, make the workpiece presents clean surface, eliminate the internal stress of workpiece, improve the fatigue resistance, increase the workpiece painting adhesion, and eventually to improve workpiece surface and inner quality.As a rule, overhead rail shot blasting machine is offered either for batch and continuous processing.
Technical characteristics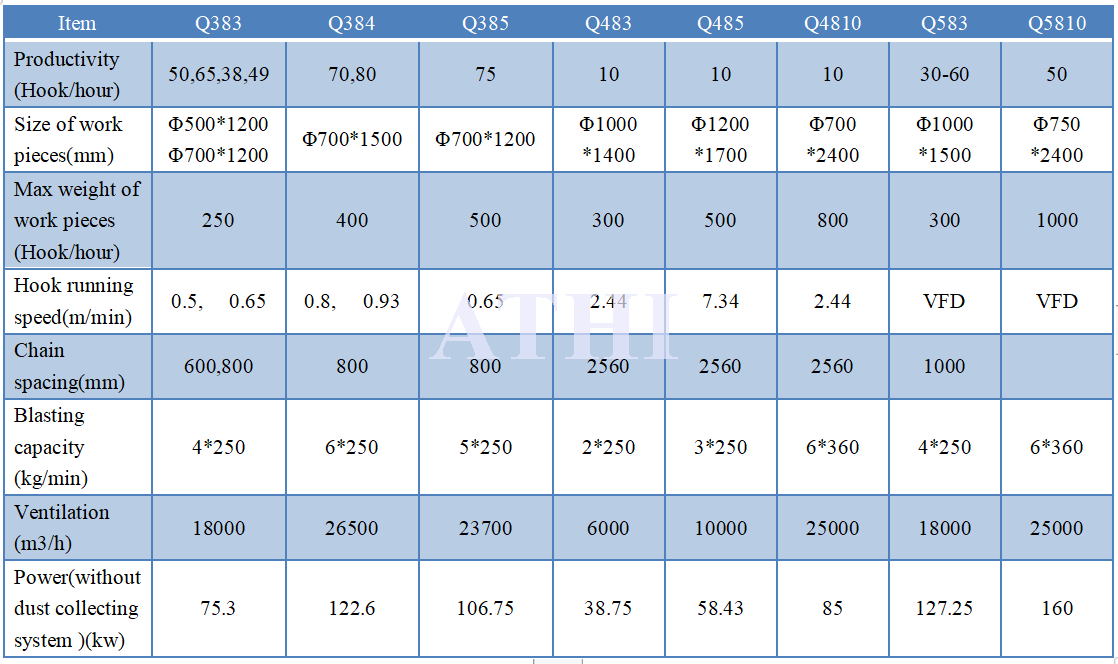 Pictures