Description
Lost foam casting, also named as evaporative pattern casting, is known as the green casting technology due to its high dimensional accuracy, smooth surface and low pollution these advantages.
Application range
1. Automotive industry
Castings such as front axle, rear axle, wheel hub, brake drum, housing cover, etc.
2. Locomotive industry
Carrying saddles, bolsters, side frames, train couplers, car bodies, tumouts
3. Construction machinery
Castings such as boxes, scales, axle housings, drive wheels, guide wheels, track pads, bucket teeth, pipe ftings, etc.
4. Machine tool industry
Bed, base, column, counterweight, plate
5.Mining machinery, cement machinery
Hubei plate, rolling wall, guard plate, wear-resistant hammer
6. Petroleum machinery
Crank, hammer, balance weight of petroleum machinery
7. Sanitary ware industry
8. Other industries
(1) Various pipe fttings such as elbows and valves;
(2) Castings such as pump body, impeller, belt pulley;
(3) artworks such as piano platoons and bronze statues;
(4) Castings such as purins, furnace doors, fumnace frames, and boiler plates;
(5) Non-ferrous metal castings such as door leafs and screens;
(6) Castings, such as manhole covers, bridge supports, tunnel arches, etc.
Technical characteristics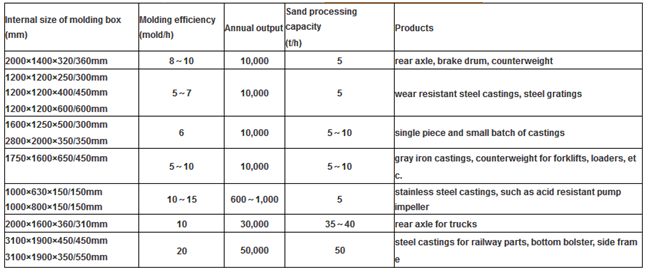 1. High dimensional accuracy of castings with low surface roughness
2. Simple process and high production efficiency
3. Large degree of freedom in design
4. Clean production, reduce noise and dust in the workshop
5. Low investment and low cost