Description
Hanger hook shot blasting machine is a kind of hook type shot blasting machine, which consists of blasting chamber, elevator, separator, screw conveyor, blast wheel assembly, abrasive control system, hook walking track,hook system, rotation device, foundation, dust collecting system and electric control system.
Hanger Type machines are the most flexible machine types. They are split into Batch Type Machines where one batch of parts moves in, starts rotating, gets blasted and moves out, and Continuous Type Machines where the machines are equipped with a monorail system that moves the parts continuously through the machine.
Hanger shot blasting machines are designed to clean parts hanging from an overhead conveyor and used for castings or large parts that cannot be tumbled.The door of the sand blasting machine is opened automatically and components are loaded on to the trolley mounted hanger. The door is then closed and the blast wheel unit is operated. The abrasive at high velocity falls upon the components on the rotating hanger, hanger rotates in both clockwise & Anti-clockwise direction and definite time period and blast clean the components. After the blast cleaning cycle is over, the blast wheel is shut off and door is opened automatically and hanger moves out for unloading of components. At the same time another hanger on the Y-track moves in for blasting purpose.
Application range

Suitable for surface cleaning and strengthening of castings, forgings, welded parts, aluminum alloy parts and other heat-treated parts of various varieties, large, medium and small batches, widely used in casting, forging, steel and other industries.
Technical characteristics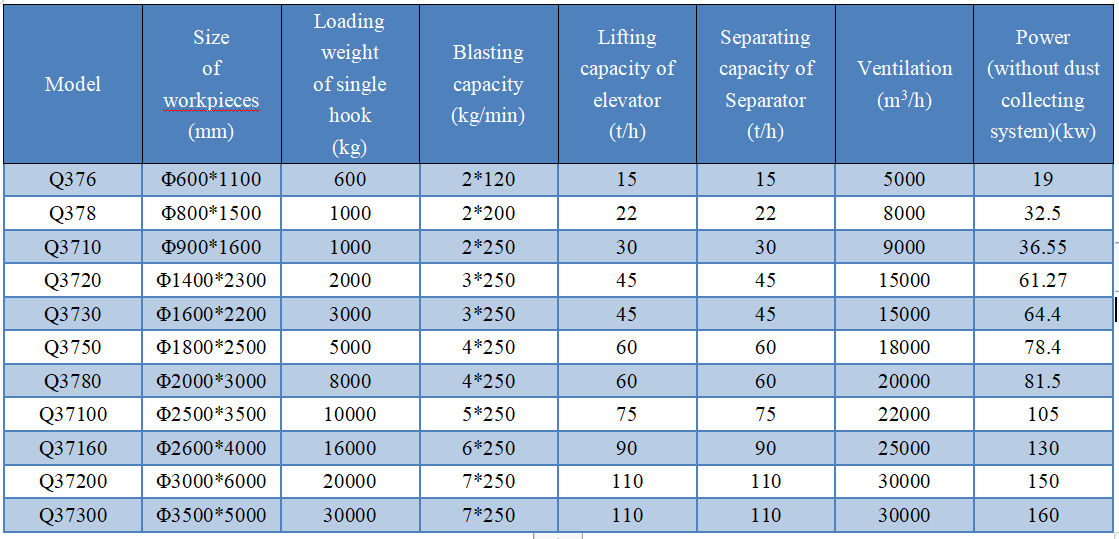 Pictures