Description
Tumbling rubber belt shot blasting machines ideal to tumble in bulk loads small and medium sizes parts. This small shot blasting machine uses wear proof rubber belt to load castings. The tumble blast machines with rubber belt conveyor are employed for the surface treatment of batches of parts, loaded manually or automatically by means of a hydraulic skip loader.
The belt conveyor is made of wear-proof rubber. Its rotation makes the parts tumbling, and by this movement the whole surfaces of the parts are exposed to the shots thrown by the turbines. The offloading of the parts is obtained by the rotation of the belt conveyor in the opposite sense. Parts can fall directly into the empty container or through an offloading belt or vibrating conveyor. The max loading capacity can vary from 200 to 600 Kilos in weight.
Application range
It is suitable for surface cleaning, remove rust and strengthen of various medium, small casting, forging and heat treatment workpiece.
Technical characteristics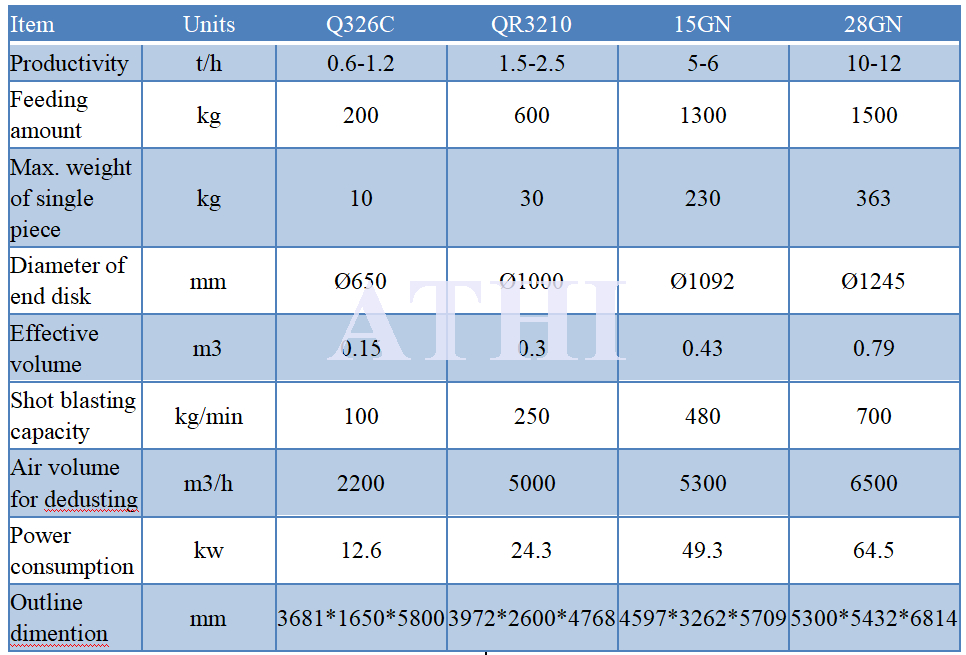 Detailed image of each model

QR326





QR3210



QR3220


1) allows parts to be tumbled inside, ensuring even blast coverage of all surfaces. The belt is designed to offer excellent
abrasion resistance, at the same time delivering high load capacities.
2) adjust blast wheel and belt speed based on the type of materials to be treated, our shot blasting systems ensure high
performance.
3) With their combined forward/tumbling movement of the materials, the tumble belt shot blasting systems ensure considerable advantages in terms of finished appearance and shorter processing times.
4) It uses high speed cantilever centrifugal type turbine blast wheels, which highly improve cleaning effect and efficiency. All blast wheels are dynamic balance checked, which makes it has less vibration and noise.
5) Material of blades, abrasive distributor, and control cage is high chrome, which can be used over 500 hours. Another option isTaiwan made special material blades, which has 1000-1600 hours lifetime.
6) The tumble belt has rubber material and manganese steel.
7) Pulse jet bag type dust collector, dust remove efficiency is over 99%. Good for environmental protection. A cartridge type dust collector can control the dust concentration under 50 mg/m3.
8) Automatic loader for massive continuous production connected to a production line. (Optional)
9) Air cylinder driven door, easy operation and good sealing.