Description
This machine consisits of machine body, pattern strpping mechanism, joting compaction mechanism, rocker arm pressure head part and pneumatc piping system.
Jolt Squeeze Molding Machine is suitable for mass production of single molding plate or single molding box of medium and small sized castings, which can produce cope or drag. The machine adopts micro vibration compaction mechanism, large shock force and compaction strength. So t can meet simple or complex molding requirements withour pre -shock. It is one of the indispensable tools for mechanized molding and has gradually replaced traditional manual moldling.
Main parts


Application range
Castings, forgings, welded parts, aluminum alloy parts and other heat-treated parts of various varieties, large, medium and small batches
Z143W, Z144W and Z145W models are the ideal choice for production of small castings lighting accessories, machine parts, furniture hardware and heating equipment. Z146W, Z147W and Z147Q models are usually for castings of various mechanical parts such as textile parts, plumbing fttings, valve parts and sewing machine casings. Z148W and Z149Q are suitable for foundry workshops such as auto parts, tractor parts, mining, machine tools, light industrial textile machinery industry.
Technical characteristics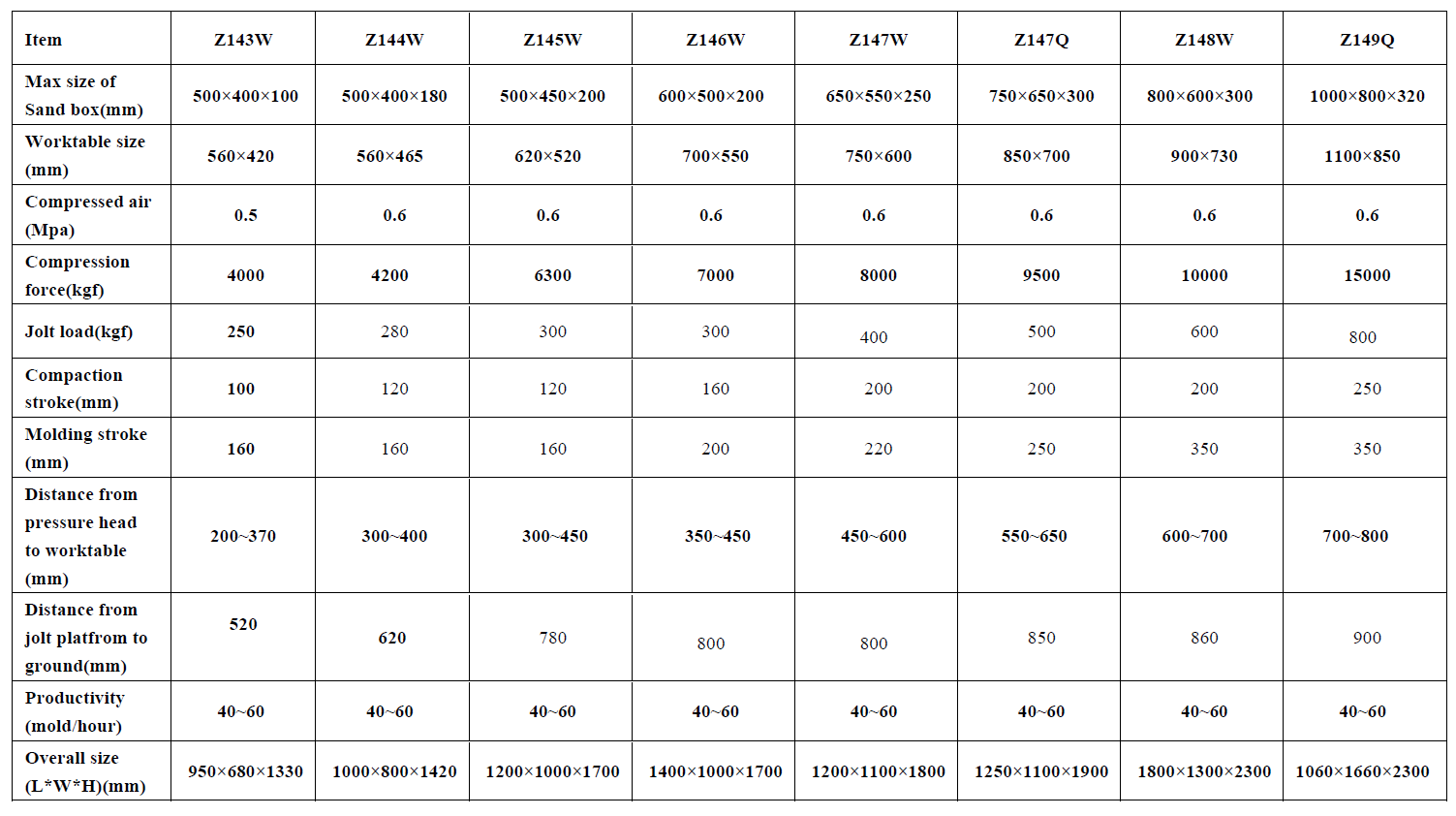 Project pictures




1. Pneumatic components, long service life and convenient operatoin, effectively improves production efficiency.
2. Optimized structure design. The square box frame structure greatly improves the rigidity of machine body.
3. Micro vibration compaction process can greatly improve compaction strength and surface roughness to stabilize product quality, The hardness of
sand molding can reach above HB90.
4. The shock part is equipped with a buffer spring to effectively reduce the impact of the machine on the foundation.
5. The pattern stripping mechanism adopts the cylinder, the crank, the connecting rod and the synchronous shaft to realize the synchronous lifting.
6. Fully adopt pneumatic parts to achieve overall function of the controll part, easy operation and convenient maintenance.