Description
Full automatic horizontal flaskless molding machine is used to manufacture sand castings. The loose molding sand are automatically injected into thesand molding box, automatic compaction, automatic mold release, automatic box closing, automatic pattern stripping, automatic pushing out andautomatic pouring. The sand box is pushed into the sand mixer so that it is continuously produced.
The molding machine adopts double-sided template, pneumatic sand feeding.Uniform hardness, flask closing high precision and adjustable sand thickness;easy replacement of template.
The hydraulic oil temperature control ensures the best running state of the equipment.This machine is easy to operate, double safety protection, visual sand type situation, operating procedure is humanized. Improve productivity effectively.
Application range
The full automatic horizontal flaskless molding machine adopts way of horizontal molding, which is suitable for the production of small and medium-sized castings such as valves, mechanical parts, auto parts, hydraulic parts, pipe fttins, agricultural machinery parts, stove parts, brake discs,bearing caps, automobile castings, diesel castings, sewing machine castings, motor covers, water pump castings, etc., and is suitable for theproduction of ductile iron and grey iron, ash,mellable steel, non-ferrous metals and other materials.
Advantage
1. Improve the production efficiency,save the human resource. 90mold/h capacity.
Horizontal parting flaskless automatic molding machine.
Equivalent to squeeze molding machine 5 sets + 5 worker.
2. Implement quality improvement and stability
Reduce the parting, Improve parting accuracy
With high rigidity guide rod support
Through the support of four high rigid guide rods to achieve high accuracy parting, mould assembling.
The maximum 0.9MPa of the extrusion pressure to improve the quality of the mold.
3.Reduce operating costs, save energy, improve the environment
Reduce the use of sand
Reduce the flying sand, sand scattered
Box up and down in closed state ,molding at the same time
Feature:
1.Horizontal parting, convenient lower core.
2.Mould height adjustable, save sand.
3.Intelligent control, no need of professional workers, the operation is simple and quick.
4.Can be composed of production lines,also can be stand-alone production.
5.Safety light switch, ensure absolute safety under the core process.
6.High efficiency and stability, 24 hours to run, to provide sustained productivity.
7.Can do complex castings.
8.Touch screen, parameter modification, immediately visible.
9.Hydraulic power, stable operation, high degree of compaction.
10.The sand box is provided with exhaust holes.
11.Angle of the sand shooting valve can be adjusted.
12.Hydraulic extrusion molding, the operating environment is more quiet.
Technical characteristics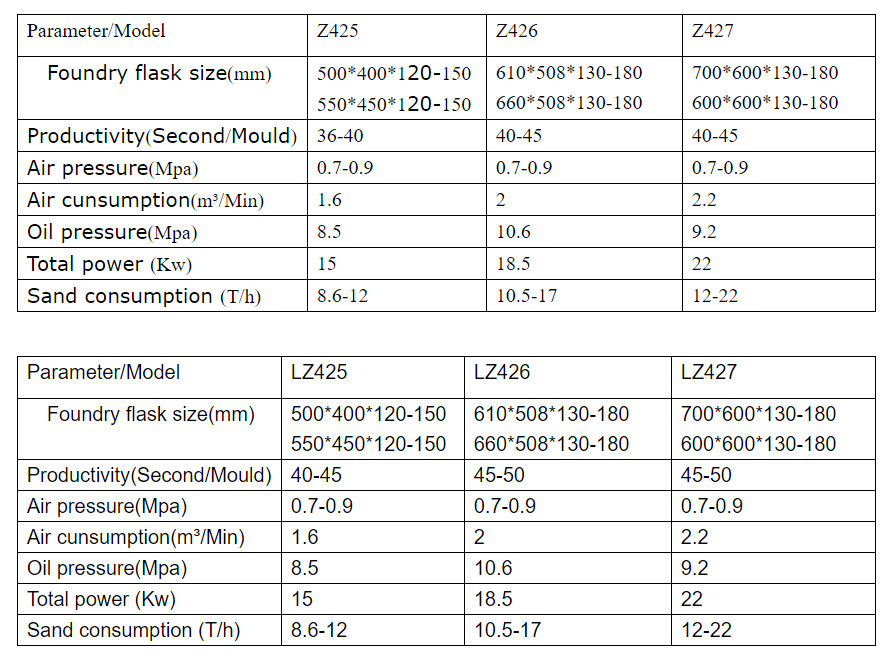 Main parts
We choose popluar electric and hydraulic parts at home and broad, CHNT, SIEMENS, SCHINEIDER, OMRON, MITSUBISHI,ABB SEW, etc. Custom brands are also accepted.



1. Accept customized equipment based on customers' exact requirements.
2. Greatly improve production efficiency and save labor costs.
3. Small occupied areas and save land .
4. lmprove casting quality and stabity, high sand molding compactness.
5. The height of the sand box can be adjusted and set according to the thickness of the molding box.
6. Can be equipped with conveyor lines, can also be produced in a single machine.
7. The hnydraulic and electronic control parts of the machine are all imported components, which are stable, reliable, high precision, long life and longlife.